Project Shakti
(Empowerment of Women through Skill Development)
---
PROJECT BACKGROUND
The Trust has added one more feather to its cap. On 15th October, 2018, a skill development project called 'Project Shakti' was inaugurated by Yuvrani Gayatri Rajye Sahiba of Jodhpur at 10 Hanwant Vihar, Rai ka Bagh, Jodhpur. Under Project Shakti a four month's basic course has been started in two batches : first from 11AM to 1 PM and second 2:00 PM to 4:00 PM. The idea of this training program is to provide vocational skills to the unemployed women/girls in sewing, embroidery, art & craft, applique work so that they can become financially strong as also to build up self-confidence amongst them. Apart from skill training the women are being imparted education in health & hygiene and elementary education through kind courtesy of Rajdadisa Hospital and scholars of Rajmata Krishna Kumari Girls' Public School. Nearly 50 women /girls have joined this training program.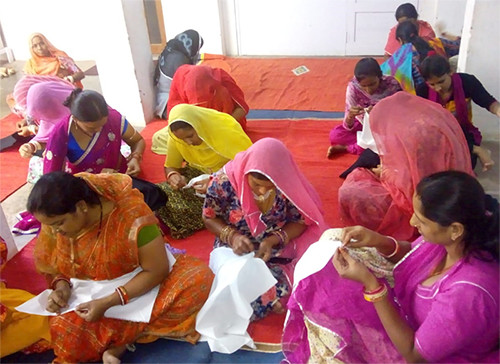 Over 90% women in Thar Desert are jobless and they have no land holdings. Dedicated to the cause of empowerment of women, His Highness Maharaja Hanwant Singhji Charitable Trust took a unique initiative and established "Thakur Achal Singh Women's Training and Empowerment Centre" in a property taken on lease from Thakurani Sahiba of Keru. The Trust repaired and refurbished the dilapidated building with financial support of PADEM Luxembourg, and Foundation Abbe' Pierre. Women's Training & Empowerment Centre – Keru was inaugurated by Her Highness Maharani Hemlata Rajye Sahiba of Jodhpur on 11th February 2010. Consequently a SHG - "Keru Mahila Swayam Sahayata Samuh" having 10 women members was formed on 12th February, 2014.
The centre aims to impart elementary education and empower women and make them self-reliant by providing training in Sewing, Patch work, Embroidery, Toy making, Handicraft items, Adult literacy program and Awareness sessions so that they can be capacitated to earn their own livelihood, become aware and financially independent.
HELPING OTHERS - KINDLES HAPPINESS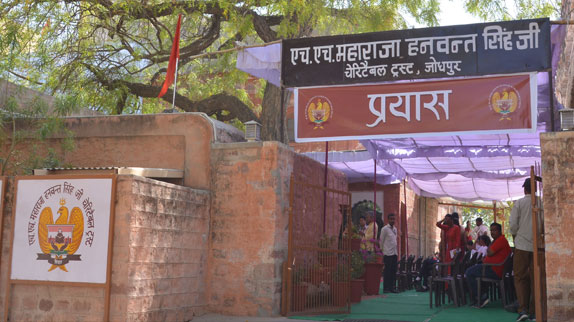 Mask Making - His Highness Maharaja Hanwant Singhji Charitable Trust, focuses on skill development providing livelihood to marginalised and needy communities. During the difficult times of the pandemic and lockdown, it has been a great challenge to keep the employment alive. The trust engaged women workers to stitch plain and printed masks. 3000 plain masks were disturbed free of cost to rural people. Designer cotton, washable masks are being sold at reasonable cost to ensure education for girls and livelihood to needy women.
Sanitary Napkins - Raising awareness among women is an important step to address the stigma attached to menstrual cycle. For this aim, RKK decided to collaborate and join hands with Yuvrani Sahiba's Project Shakti and ventured "Prayaas" - an effort, inspired by Service endeavours of Round Square that aims at Women Empowerment. A small manufacturing unit for Sanitary Napkins was set up at His Highness Maharaja Hanwant Singhji Charitable Trust, 10, Hanwant Vihar, Rai-Ka-Bagh, Jodhpur.
Finally, on 3rd April 2019, this Project was inaugurated by Yuvrani Gayatri Rajye Sahiba, which signified a fresh start of this magnificent "Project Shakti" – 'Our Prayaas'.
Sanitary Napkins are distributed free of cost in nearby villages. Along with this, to create awareness among villagers, a team of 13 RKKians present and perform a street play educating and encouraging the women to forego superstitions and adopt a cleaner, healthier way related to their menstrual cycle. It is RKK's service endeavour to uplift, educate, inspire the subjugated women and empower them to manufacture Sanitary Napkins to ensure their livelihood and sustenance.