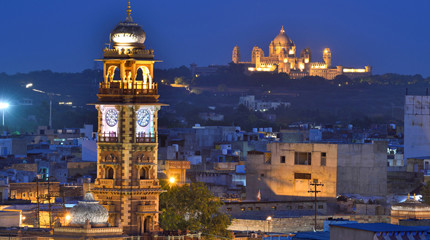 Jodhpur is acknowledged as the Sun City & the Blue City. Sun City - because it enjoys the bright and sunny weather all the year round and Blue City because buildings of old city area are painted with iconic shade of blue to keep the houses cool.
The second largest city in Rajasthan, Jodhpur was formerly the seat of a princely state also known as Marwar. In 1458, secure in his dominion, Jodha became the XV Rathore ruler, who hailed from the nearby town of Mandore. Within a year of his accession, Rao Jodha decided to build a new capital. The foundation of Mehrangarh fort was laid on 12th May 1459 on a rocky hill six miles south of Mandore. A city was thus founded at the eastern base of Bhakurcheeria in 1459 which he named, simply, Jodhpur, Jodha's City.
Jodhpur was in serious drought for more than three years. To provide employment, the 37th King of Rathore Dynasty, His Highness Maharaja Umaid Singhji decided to build a lavish palace. The foundation of grand Umaid Bhawan Palace was laid in 1929. The farmers used this opportunity to have a steady income when their fields rendered no yields. Philanthropy was the edifice on which the palace was built.
The 38th descendant of Rao Jodha's Rathore Dynasty, Gaj Singhji II was recognized in 1952 as the Maharaja of Jodhpur by Dr.Rajendra Prasad, the first President of free India.
Gaj Singhji II of Jodhpur today stands tall amongst the former rulers of India. His field of action and work space is varied, covering the entire gamut of social and cultural life. His passion always has been towards upliftment of education, provide good health services, revival & promotion of Sports, Conservation & Preservation of Traditional Art, Music & Culture, Conservation & Restoration of historical buildings in Marwar, pioneering traditional Water Harvesting System and many more.
Community Services supported by the Royal family
Research and Conservation
Health Care
Education and Sports
Conserving Art, Music and Culture
Promotion of Traditional Handicrafts
Canine Support Group