COVID-19 Relief
The Royal Family of Jodhpur has a long history of in kind social programs conducted under the umbrella of 'His Highness Maharaja Hanwant Singhji Charitable Trust' which comprises all Trusts that function with the support of and under tutelage of the Chief Patron, His Highness Maharaja GajSingh ji of Marwar Jodhpur who is actively involved to support the government during these difficult times.
During these testing and uncertain times when the world has been disrupted by the Coronavirus pandemic, it has become more important than ever for communities to come together and help those who are suffering not only those directly affected by the virus, but also those whose lives are endangered because of the countrywide lockdown. Under these circumstances, many people have lost their sources of income and a re struggling to make their ends meet. The flagship programmes of the Trust have been largely in the areas of feeding the hungry, civic awareness, health, safety and generating awareness.
Working on the ethos of Philanthropy and humanity, the field teams of His Highness Hanwant Singh Ji Charitable Trust with all the Trusts and Women NGO are fully geared to do everything in their power to serve the vulnerable groups by taking multiple steps to mitigate the sufferings brought by COVID 19.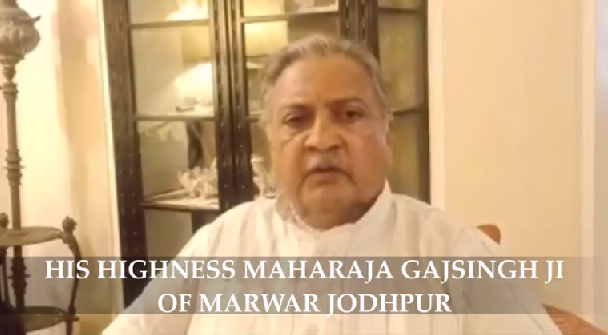 MAIN ENDEAVOURS
| | |
| --- | --- |
| | Generous Contribution : The Trust has opened its purse strings and has contributed an amount of Rupees One Crore One Lac to the Hon'ble Prime Minister's Care Fund. |

| | |
| --- | --- |
| | Alleviate Hunger : The Trust in Barmer district is geared to give family ration packets every month to the vulnerable. |

| | |
| --- | --- |
| | Digital Support : Post Lockdown the Trust will be facilitated by HP India with Computer Learning and Tech Services for digital outreach into rural areas. Technology can generate new forms of employment. Therefore, His Highness Maharaja Hanwant Singh Ji Charitable Trust immediately plunged into action, using digital tools for providing access to counseling and educating rural populace and allay their fears. |

| | |
| --- | --- |
| | Generating Awareness : Digital Services will be further used to offer counseling and educating the rural residents to allay fears of COVID 19. |

| | |
| --- | --- |
| | Support the Deprived : Alumni of Rajmata Krishna Kumari Girls' Public School have joined hands with the trust to launch the 'Jodhpur Food Drive' to support certain deprived pockets in the city and in and around RKK premises. |

| | |
| --- | --- |
| | Production of Masks : Our Women NGO is preparing 5000 masks a month which will be distributed free of cost to the people of those areas as suggested or directed by the local administration. His Highness Maharaja Hanwant Singh ji Charitable Trust with the support of its Women NGO is busy making masks to protect thousands from corona virus and at the same time supporting their family financially during the lockdown period. This move has given livelihood opportunities to women especially during this period when most of them have lost their jobs. |

| | |
| --- | --- |
| | Diagnostic Support : Testing Stations have been purchased and handed over to Medical College, Jodhpur. |

| | |
| --- | --- |
| | Extended Hospital Support : To sail through the crisis, the Trust has extended a well equipped 70 bedded hospital, supported by trained team of Specialists, Doctors and Staff has been extended to the local administration for COVID 19 patients. |

| | |
| --- | --- |
| | Sufficient Stock in the Hospital : Hospital shelves and closets are stacked with essentials to avoid shortage of crucial resources to properly combat the pandemic. |
SMALL ACTS, WHEN MULTIPLIED BY MILLIONS OF PEOPLE, CAN TRANSFORM THE WORLD
This is the time to pitch in and place national unity above all and to relegate caste/class-based separation to offstage. Let's all contribute to the common good, so that when this crisis ends, we are thankful to all helping hands for keeping our society and democracy thriving. Your simple support will mean the world to us.

The Trust will work for:
Donation of ration packets to daily wage earners.
Donation of hygiene kits comprising mask, soap, sanitizer for those in high risk areas.