Project Sahyog
(Integrated Rural Development)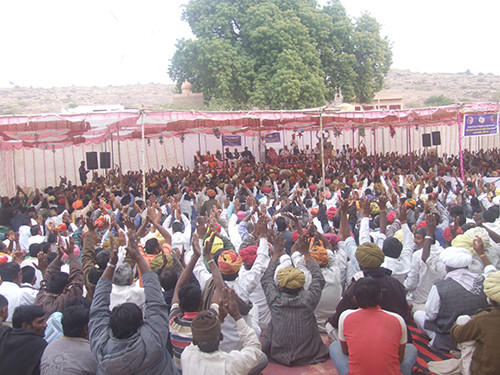 Over the past three decades the Trust has been very active in service of the community to restore, conserve and preserve the environment at the same time providing fodder for the animals, sustenance to the poor and the abandoned aged relief in case of natural calamities, rehabilitation of the affected people etc The Trust has always followed the ethos of providing help and support of such nature as to be of permanent value with a view to eradicate the problem Considering the ever recurring famine drought in the Thar Desert, the Trust implemented Project Sahyog with support from Sir Ratan Tata Trust with a view to drought proof a cluster of 29 villages in Balesar Block of Jodhpur District and created a replicable development model for others to emulate.
To mitigate sufferings of the people during recurring droughts, Project Sahyog has scaled new heights in increasing household income though major activities like anicuts, agricultural and horticulture demonstrations, roof top/surface water harvesting tankas, animal breed improvement, pastureland development and micro enterprise unit.
Projects undertaken and completed - (1993 - 2016)
In the Year 2014 to 2016
Project Sahyog Consolidation Phase A project commenced from December, 2014 to consolidate the work done by the Trust during Project Sahyog Phase I and II with focus on achieving sustainable use, maintenance and conservation of common pool resources through user groups/community institutions being supported by Sir Ratan Tata Trust, Mumbai
Years 2014 to 2016
In the Year 2007 to 2013
As a result of success of Project Sahyog Phase I, the integrated rural development project was continued as Project Sahyog Phase II, with a revised scope by including 13 more villages with financial support from Sir Ratan Tata Trust.
Year 2007 to 2013
In the Year 2002 to 2006
Integrated Rural Development Project (drought proofing) with financial support of Sir Ratan Tata Trust, Mumbai Project Sahyog
Year 2002 to 2006
In the Year 1997 to 2001
Watershed Development Project with financial support of District Rural Development Agency, Jodhpur Integrated
Year 1997 to 2001
In the Year 1993 to 1998
Sand dune stabilization projects with financial support of District Rural Development Agency, Jodhpur
Year 1993 to 1998